Neil A. Salvaterra, Director of Certification Services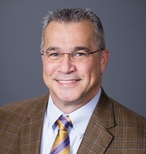 Mr. Salvaterra is committed to helping others make the connection between knowledge gained from practical and formal education, and the successful application of that knowledge in the context of life, personally and professionally. Witnessing others achieve authentic success in their lives is what motivates Mr. Salvaterra to continuously improve our system of delivery for our certification and educational services.
Mr. Salvaterra has extensive professional experience in the fields of education, employee development and leadership training. He started with an extensive career in the hospitality industry managing large restaurants, hotels and country clubs. With experience in all aspects of the hospitality industry, Mr. Salvaterra can attest to the critical skills required when acquiring, training and retaining the right people for such a demanding industry.
Following his career in the hospitality industry, Mr. Salvaterra was involved in volunteer and leadership training for a number of non-profit organizations. His vast experience has taught him that any organization, for-profit or non-profit, will succeed when its employees are committed to the vision and mission of that organization. As the level of Personal Leadership Effectiveness in any organization rises so will the levels of production, performance, team efficiency and profitability also rise.
Mr. Salvaterra's commitment as Director of Certification Services is to provide the very best educational/certification services for those wanting to develop their own Personal Leadership Effectiveness, and for those wanting to partner with us to make difference within the cultures of a variety of for-profit and non-profit organizations.